Ramsey Kearney - Discography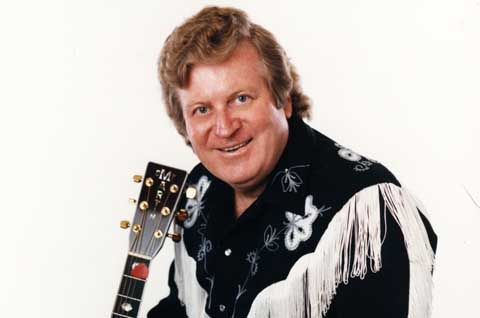 William Ramsey Kearney, born in Boliver, Tennessee, October 30, 1933 to David and Zora Kearney, the oldest of seven children.
   After winning a talent contest in his home town, he told his mother he would just get him a radio show, she said he wasn't good enough and he said I'll show "you" and soon......
   At age fifteen he had a radio show on WDXI Radio in Jackson, TN.
He was known as the "DIXIE FARMBOY"
   Ramsey had heard a radio commercial advertising Anderson's Tractor
Company on WDXI RADIO in Jackson. Upon hearing the commercial Ramsey approached Mr. John Anderson about sponsoring him on the radio. Mr. Anderson said he had heard Ramsey on the talent show and thought he was pretty good, and what did he want out of the radio show. Ramsey told him $2.00 gas money to drive the farm truck up and back to Jackson .
As it turned out...
   The Ramsey Kearney Radio show aired every Saturday morning at 10 AM on WDXI , lasting from 1948 to 1952. It started at 15 minutes, then went to 30 minutes as other merchant's joined in on the sponsorship.   Ramsey remembers that after he had done several radio shows, he received a phone call from CARL PERKINS, and could he come up and pick guitar on radio with him? Carl appeared the following  Saturday with his guitar and amp. Carl had a National acoustic guitar, with a silver plated pick-up mounted above the sound hole and under the strings. The strings were about one-half inch above the fingerboard on the neck, the amp was about as big as a cracker box . But to Ramsey's surprise, he sounded pretty good!
   Ramsey remembers he played in the style resembling the late Merle Travis, writer of SixteenTons, but wanted to play like Chet Atkins. Carl told Ramsey after the radio show, that his parent's had wanted him to come up and work with him because he would go far in the music business. Carl was a guest several times on Ramsey's radio show.
   After graduation from Boliver Central High School , Ramsey moved to Memphis Tennessee to further his career and get more experience . Ramsey was lead vocalist and front man for the Snearly Ranch Boy's, who played night clubs in Memphis and Arkansas . During this period in time, Ramsey also had a daily radio show on KWEM in West Memphis Arkansas.
   In 1953 Ramsey was drafted in the U.S. ARMY. During his first army leave, Ramsey was visiting his friend "Sleepy Eyed John"  (John Lepley), a poplar disk jockey at WHHM. He told Ramsey that Sam Phillips, (owner of Sun Records), was about to do something recording wise.
   Ramsey recalls, "We went to Sam and discussed the possibilities... we decided on what musicians to use, and Sam called the session . We did three songs: "The Work Of The Lord" which I wrote, "New Low Price Of Love", which I Co-wrote with Sleepy Eyed John Lepley, and the third song was "I've Never Stopped Loving You", another song I wrote.  Sam seemed to be well pleased with these recordings, especially with "The Work Of The Lord"; but to Ramsey's dismay, Sam never released these recordings.  
   Upon his release from the Army, Ramsey returned to Memphis. In a gas station, shortly after returning home, Ramsey ran into Carl Perkins and his two brothers,
Clayton and Jay. He told Carl that he had been reading about a Carl Perkins doing some recording, and was it him? He said it was, but hadn't had much luck with a hit yet.  
   Carl had just recorded "Blue Suede Shoes" and had great expectations for that song. The last conversation Ramsey had with Carl, was when they rode back to Jackson from a D.J. convention in Nashville. Carl was quite upset because Elvis Presley had covered him on "Blue Suede Shoes". Carl asked Ramsey if he thought he'd have another hit and Ramsey said, "If he had one in him, there is bound to be another somewhere.  
   After a lot of detours, Ramsey finally made his way to Nashville. After starving out in Nashville the first time, Ramsey moved to Knoxville Tennessee, where he worked for an old friend named Jim Clayton, who ran a used car business. Ramsey worked as a used car salesman, and did jingles and radio spots for Clayton's Company.  
   On Saturday nights he was a regular on the TENNESSEE BARN DANCE that was aired over WNOX Radio, and hosted by Lowell Blanchard. Ramsey returned to
Nashville, and did a solo act at the VOODOO ROOM in famous PRINTER'S ALLEY for several years.
 Since Ramsey Kearney has been in Nashville, he has written for three major music publishing companies. The first being CEDARWOOD PUBLISHING COMPANY, where he co-wrote with MEL TILLIS the award winning song "EMOTIONS." There has been six 45 rpm single record releases, and four different album releases .
Among the artist's that have recorded "EMOTION" are :
BRENDA LEE , JUICE NEWTON , MEL TILLIS , AND RAMSEY KEARNEY .
   One of Ramsey's dream's was to be an exclusive writer for ACUFF-ROSE
PUBLICATIONS. His favorite understudy songwriter was Fred Rose, the cofounder of ACUFF-ROSE MUSIC COMPANY. Fred Rose in earlier day's , discovered HANK WILLIAMS, and signed HANK to write for ACUFF-ROSE MUSIC.
RAMSEY'S DREAM COMES TRUE...
   He was signed to ACUFF-ROSE MUSIC as a songwriter, and also as the company songplugger. (A songplugger is the person who presents the completed demo song to the Producers, Recording Artists and Record Companies for consideration of the song being recorded for commercial use.)
   ACUFF-ROSE had a parent record label called HICKORY RECORDS, there
Ramsey recorded 12 sides with the guidance of Wes Rose. His favorite HICKORY RECORDS release is one written by Fred Rose entitled "I NEVER LET YOU CROSS MY MIND". That's the song Ramsey sang when he debuted on the GRAND OLD OPRY.
   Ramsey has leased all 12 sides of his Hickory Recordings from Hickory Records, INC. They will be added to his website in CD form. The title of the CD will be "Take A Walk". These historic recordings were done in Nashville at the famous RCA
Studio B. Such notable as the Jordanaires, the late Floyd Kramer, Harold Bradley, Grady Martin, Jim Isbell and Fred Carter Jr. can be heard.
   The last major publishing company Ramsey wrote with was TREE PUBLISHING COMPANY. Ramsey now records for SAFARI
RECORD'S, where he has had 23 SINGLE 45 RPM releases; many of these releases made it to the TOP 100.

Many Thanks to Original Contributors.
Last edited by Ned Kelly on Fri May 12, 2017 10:30 am; edited 14 times in total



Posts

: 85


Join date

: 2013-04-11


Location

: Still in Glenrowan



Ramsey Kearney - Album List (10 Albums)
197- - Ramsey Kearney - Take A Walk - The Hickory Sessions
1985 - Ramsey Kearney - Behind A Song
199- - Ramsey Kearney - I Love Everything About You
199- - Ramsey Kearney - If I'm Blue
199- - Ramsey Kearney - Meet Me In My Memories
1990 - Ramsey Kearney - Golden Dreams Of Hawaii
1992 - Ramsey Kearney - Song Autobiography
1998 - Ramsey Kearney - It's The Work Of The Lord
2009 - Ramsey Kearney - Hickory Record Sessions
2011 - Ramsey Kearney - The Blues Keep Hangin' On
Last edited by Elaine4 on Thu Jun 22, 2017 2:03 am; edited 4 times in total
A Special "Thanks" goes to "Tamworth Ted & howstean" for these additions.
197- - Ramsey Kearney - Take A Walk - The Hickory Sessions @256
Code:

http://www11.zippyshare.com/v/egVIfYfP/file.html
1985 - Ramsey Kearney – Behind A Song @320
Code:

http://www38.zippyshare.com/v/4NAXypW6/file.html
199- - Ramsey Kearney - I Love Everything About You @256
Code:

http://www11.zippyshare.com/v/JVrdep0G/file.html
199- - Ramsey Kearney – If I'm Blue @320
Code:

http://www96.zippyshare.com/v/2PG1cCkc/file.html
199- - Ramsey Kearney - Meet Me In My Memories @256
Code:

http://www11.zippyshare.com/v/g8n5aovb/file.html
1990 - Ramsey Kearney - Golden Dreams Of Hawaii @320
Code:

http://www74.zippyshare.com/v/C40VHOIE/file.html
1992 - Ramsey Kearney - Song Autobiography @256
Code:

http://www11.zippyshare.com/v/SfyGrT2i/file.html
1998 - Ramsey Kearney - It's The Work Of The Lord @256
Code:

http://www11.zippyshare.com/v/hqBcRE5T/file.html
2009 - Ramsey Kearney - Hickory Record Sessions @192
Code:

http://www11.zippyshare.com/v/fGUJ5saM/file.html
2011 - Ramsey Kearney - The Blues Keep Hangin' On @256
Code:

http://www11.zippyshare.com/v/5c1W659S/file.html
Similar topics
---
Permissions in this forum:
You
cannot
reply to topics in this forum