The Singing Kettles - Discography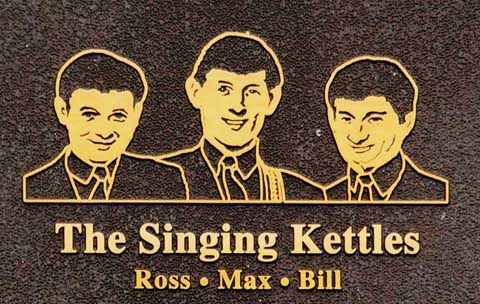 In their young days, Bill, Ross and Max Kettle were simply typical Australian country boys.   They were born and raised in the small town of Lilydale, Tasmania.   Their singing career began at church socials and school functions, and it was their local minister who "christened" them.   One night in his introduction he said ".... You have all heard whistling kettles, but now here are the Singing Kettles," ... and the name stuck!   The Singing Kettles became one of the most well loved country and western singing groups that Australia has known. In their first few years after leaving school, the Kettles worked as timber cutters on Tasmania's north east coast.   Every day, their guitars would go with them, and during their lunch break the sounds of country harmonies would soar through the Tasmanian bushland! Their first recording was released in 1961.   Bill and Ross were working as a duo at that time, because Max was only about 11 years old.   That first record was "Judy" and it was not only the commercial first recording by the Singing Kettles, but it was also the first release for the brand new Hadley record label, which was then based in Launceston, Tasmania.   A string of singles, extended play and album releases followed.In 1969, the Singing Kettles, then a trio, made their next big step.They planted their feet permanently on mainland soil in that year, basing themselves initially in Tamworth, and then moving to Sydney to enter the hurley burley of the club scene. On January 22nd, 1971, tragedy struck the trio with the sudden death after a show in Sydney of young Max Kettle.   He suffered a massive attack of asthma, an affliction which had plagued him since birth.   He had celebrated his 21st birthday only a fortnight before.   To a lesser act, this would have meant the end of the road, but knowing their brother's wishes, Bill and Ross continued, and made the drastic changes necessary to turn their act into the professional duo that toured Australia for the next 17 years.Among their honours, was their induction into the "Hands of Fame" in Tamworth in 1978.   The end of the Singing Kettles came in 1988.   The act broke up, Ross becoming a solo singer, and Bill and fiance, Kathy Thomson, working as a duo.   Bill and Kathy rang the wedding bells in Launceston on Tuesday 10th October, 1989.Except for some of the very early duo recordings, made before Max was old enough to join his brothers on recording sessions, all Hadley Records issues of the Singing Kettles are of the original famous Singing Kettles Trio, and feature that very special and unique sound that was theirs alone.


Many Thanks to Original Contributors.




Posts

: 85


Join date

: 2013-04-11


Location

: Still in Glenrowan



Singing Kettles - Album List (17 Albums = 18 Discs)
1965 - Singing Kettles - Country Harmony
1965 - Singing Kettles - Encore (EP)
1965 - Singing Kettles - Their Hit 'Judy' (EP)
1968 - Singing Kettles - Brewin' Some Country Songs
1969 - Singing Kettles - Songs Of Slim And Hank
1973 - Singing Kettles - A Taste Of Country
1973 - Singing Kettles - Air Mail To Heaven
1973 - Singing Kettles - Kettle Country
1974 - Singing Kettles - Little Boy Lost & A Satisfied Mind
1975 - Singing Kettles - Flying High
1975 - Singing Kettles - The Singing Kettles
1975 - Singing Kettles - We Three
1979 - Singing Kettles - The 14Th Album
1979 - Singing Kettles - The Way It Used To Be (2-LP set)
1979 - Singing Kettles - Toy Telephone
1993 - Singing Kettles - 18 Of Our Best
2006 - Singing Kettles - Country Harmony - The Hadley Masters
Last edited by Elaine4 on Thu Jun 22, 2017 3:49 am; edited 2 times in total
1965 - Singing Kettles - Country Harmony @320
Code:

http://www90.zippyshare.com/v/vyjhRbBW/file.html

1965 - Singing Kettles - Encore (EP) @320
Code:

http://www90.zippyshare.com/v/kSWzT2qF/file.html

1965 - Singing Kettles - Their Hit 'Judy' (EP) @320
Code:

http://www90.zippyshare.com/v/PWMvDzfO/file.html

1968 - Singing Kettles - Brewin' Some Country Songs @320
Code:

http://www90.zippyshare.com/v/HtzwixST/file.html

1969 - Singing Kettles - Songs Of Slim And Hank @320
Code:

http://www90.zippyshare.com/v/AZYPUux9/file.html

1973 - Singing Kettles - A Taste Of Country @320
Code:

http://www90.zippyshare.com/v/s5lejMod/file.html

Last edited by Elaine4 on Sat Jun 03, 2017 5:53 pm; edited 2 times in total
1973 - Singing Kettles - Air Mail To Heaven @320
Code:

http://www57.zippyshare.com/v/3KFkT2d1/file.html

1973 - Singing Kettles - Kettle Country @320
Code:

http://www57.zippyshare.com/v/ZfPbWFTp/file.html

1974 - Singing Kettles - Little Boy Lost & A Satisfied Mind @128
Code:

http://www57.zippyshare.com/v/dWVitF2T/file.html

1975 - Singing Kettles - Flying High @192
Code:

http://www57.zippyshare.com/v/ckHZ0DZS/file.html

1975 - Singing Kettles - The Singing Kettles @192
Code:

http://www57.zippyshare.com/v/xsz3mplH/file.html

1975 - Singing Kettles - We Three @320
Code:

http://www57.zippyshare.com/v/vhcNZnW7/file.html

Last edited by Elaine4 on Sat Jun 03, 2017 6:26 pm; edited 2 times in total
1979 - Singing Kettles - The 14Th Album @192
Code:

http://www7.zippyshare.com/v/CKyIa63A/file.html

1979 - Singing Kettles - The Way It Used To Be (Disc 1) @320
Code:

http://www7.zippyshare.com/v/meTXLycd/file.html

1979 - Singing Kettles - The Way It Used To Be (Disc 2) @320
Code:

http://www7.zippyshare.com/v/iwkoDOsz/file.html

1979 - Singing Kettles - Toy Telephone @128
Code:

http://www7.zippyshare.com/v/pKJAy9LZ/file.html

1993 - Singing Kettles - 18 Of Our Best @320
Code:

http://www7.zippyshare.com/v/2xggXBe0/file.html

2006 - Singing Kettles - Country Harmony - The Hadley Masters @320
Code:

http://www7.zippyshare.com/v/VUZGiuE2/file.html
Last edited by Elaine4 on Sat Jun 03, 2017 6:51 pm; edited 2 times in total
Similar topics
---
Permissions in this forum:
You
cannot
reply to topics in this forum