Susan Raye - Discography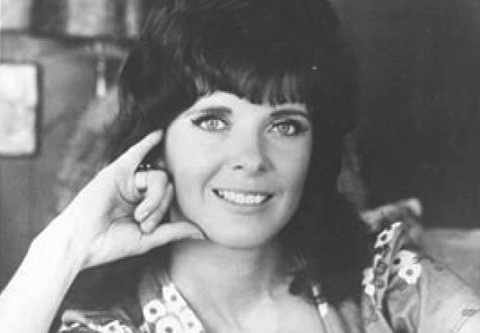 Susan Raye (born October 8, 1944,
Eugene, Oregon
) is an
American
country music
singer. She enjoyed great popularity during the early and mid-1970s and chalked up seven top 10 and nineteen top 40 country hits, most notably the song '
L.A. International Airport
', an international crossover pop hit in 1971.
Raye was a protegee of country music singer
Buck Owens
. Owens and Raye recorded a number of hit albums and singles together, and were one of the most successful country duet acts of the era, in addition to their solo careers.
Raye first began singing with a high school rock group, but after the band called it quits, she auditioned for a local country station. Not only did she begin performing on the radio, she also landed work as a

disc jockey

, eventually becoming the host of a Portland TV program called Hoedown. It was at one of Raye's performances at an area nightclub where she met

Jack McFadden

, Owens' manager. McFadden was so impressed with her vocal talents that he persuaded Owens to fly her to his home in

Bakersfield, California

, for an audition.
She moved to Bakersfield and began singing with Owens in 1968, and soon after she cut her first recordings. One of these songs, '

Put a Little Love in Your Heart

,' made the Top 30 in 1970. At about the same time, she began a nine-year stint as a featured performer on the program Hee Haw.
For more information visit Wikipedia
Code:

https://en.wikipedia.org/wiki/Susan_Raye
Many Thanks to Original Contributors.

Last edited by Elaine4 on Tue Jul 04, 2017 7:05 am; edited 2 times in total
Susan Raye - Album List (25 Albums)
1970 - Susan Raye - One Night Stand
1970 - Susan Raye & Buck Owens - The Great White Horse
1970 - Susan Raye & Buck Owens - We're Gonna Get Together
1971 - Susan Raye & Buck Owens - Merry Christmas From Buck Owens & Susan Raye
1971 - Susan Raye - Pitty Pitty Patter
1971 - Susan Raye - Willy Jones
1972 - Susan Raye - (I've Got A) Happy Heart
1972 - Susan Raye - My Heart Has A Mind Of Its Own
1972 - Susan Raye - Wheel Of Fortune
1973 - Susan Raye - Cheating Game
1973 - Susan Raye - Hymns By Susan Raye
1973 - Susan Raye - Love Sure Feels Good In My Heart
1973 - Susan Raye - Plastic Trains Paper Planes
1973 - Susan Raye & Buck Owens - The Good Old Days (Are Here Again)
1974 - Susan Raye - Singing Susan Raye
1974 - Susan Raye - The Best Of Susan Raye
1975 - Susan Raye - Whatcha Gonna Do With A Dog Like That
1976 - Susan Raye - Focus On Susan Raye
1976 - Susan Raye - Honey Toast And Sunshine
1977 - Susan Raye - Susan Raye
1985 - Susan Raye - Then And Now
1985 - Susan Raye - There And Back
1993 - Susan Raye - L.A. International Airport - 25 Great Songs
1999 - Susan Raye - 16 Greatest Hits
2011 - Susan Raye & Buck Owens - The Very Best Of Buck Owens & Susan Raye
Last edited by Elaine4 on Tue Jul 04, 2017 7:02 am; edited 2 times in total
1970 - Susan Raye - One Night Stand @192
Code:

http://www97.zippyshare.com/v/tob05Gte/file.html
1970 - Susan Raye & Buck Owens - The Great White Horse @256
Code:

http://www85.zippyshare.com/v/hytNUwvv/file.html
1970 - Susan Raye & Buck Owens - We're Gonna Get Together @256
Code:

http://www85.zippyshare.com/v/i9edxgVY/file.html
1971 - Susan Raye & Buck Owens - Merry Christmas From Buck Owens & Susan Raye @128
Code:

http://www85.zippyshare.com/v/VwtoyxRG/file.html
1971 - Susan Raye - Pitty Pitty Patter @320
Code:

http://www97.zippyshare.com/v/WaotWr86/file.html
1971 - Susan Raye - Willy Jones @VBR
Code:

http://www97.zippyshare.com/v/mybcZ58a/file.html
1972 - Susan Raye - (I've Got A) Happy Heart @320
Code:

http://www97.zippyshare.com/v/poTQJSxc/file.html
Last edited by Elaine4 on Tue Jul 04, 2017 6:50 am; edited 1 time in total
1972 - Susan Raye - My Heart Has A Mind Of Its Own @224
Code:

http://www97.zippyshare.com/v/ZWHeJMJa/file.html
1972 - Susan Raye - Wheel Of Fortune @192
Code:

http://www97.zippyshare.com/v/xHxVBPad/file.html
1973 - Susan Raye - Cheating Game @320
Code:

http://www85.zippyshare.com/v/Ip2TPE0K/file.html
1973 - Susan Raye - Hymns By Susan Raye @256
Code:

http://www85.zippyshare.com/v/n0DNW4nA/file.html
1973 - Susan Raye - Love Sure Feels Good In My Heart @256
Code:

http://www85.zippyshare.com/v/AbD2UpZ9/file.html
1973 - Susan Raye - Plastic Trains Paper Planes @224
Code:

http://www97.zippyshare.com/v/a4ltgWUz/file.html
Last edited by Elaine4 on Tue Jul 04, 2017 6:53 am; edited 1 time in total
1973 - Susan Raye & Buck Owens - The Good Old Days (Are Here Again) @256
Code:

http://www97.zippyshare.com/v/D9GKf6ZP/file.html
1974 - Susan Raye - Singing Susan Raye @224
Code:

http://www97.zippyshare.com/v/efg5s9aR/file.html
1974 - Susan Raye - The Best Of Susan Raye @320
Code:

http://www97.zippyshare.com/v/C8aCeAWn/file.html
1975 - Susan  Raye - Whatcha Gonna Do With A Dog Like That @224
Code:

http://www97.zippyshare.com/v/uDnLFmXO/file.html
1976 - Susan Raye - Focus On Susan Raye @320
Code:

http://www85.zippyshare.com/v/u9tuW74H/file.html
1976 - Susan Raye - Honey Toast And Sunshine @VBR
Code:

http://www97.zippyshare.com/v/Tdw0y3UN/file.html
Last edited by Elaine4 on Tue Jul 04, 2017 6:56 am; edited 1 time in total
1977 - Susan Raye - Susan Raye @224
Code:

http://www97.zippyshare.com/v/g3zNAd2O/file.html
1985 - Susan Raye - Then And Now @320
Code:

http://www97.zippyshare.com/v/Leo7CNl9/file.html
1985 - Susan Raye - There And Back @320
Code:

http://www97.zippyshare.com/v/Ruq8o9hT/file.html
1993 - Susan Raye - L.A. International Airport - 25 Great Songs @320
Code:

http://www97.zippyshare.com/v/bSWkONTD/file.html
1999 - Susan Raye - 16 Greatest Hits @320
Code:

http://www97.zippyshare.com/v/Ffj8VGSL/file.html
2011 - Susan Raye & Buck Owens - The Very Best Of Buck Owens & Susan Raye @192
Code:

http://www97.zippyshare.com/v/yXVFOHnC/file.html
Last edited by Elaine4 on Tue Jul 04, 2017 6:59 am; edited 1 time in total
Similar topics
---
Permissions in this forum:
You
cannot
reply to topics in this forum