Leona Williams - Discography
Leona Belle Helton, born January 7, 1943 in
Vienna, Missouri
, is an American
country music
singer known professionally as Leona Williams. Active in her family's band since childhood, she had a radio program on
KWOS
in
Jefferson City, Missouri
when she was fifteen. Later on, she worked as a
bass guitarist
and backing vocalist in
Loretta Lynn
's road band. By 1968, Williams signed to the Hickory record label and released two singles: 'Once More' and 'Country Girl with Hot Pants On.' In 1976, she recorded the album 'San Quentin's First Lady' for
MCA Records
, which was the first country album recorded by a female artist inside a prison. She also joined
Merle Haggard
's road band in the mid-1970s, supplanting his estranged wife,
Bonnie Owens
. Leona wrote two of Merle's No. 1 hits, 'Someday When Things Are Good', and 'You Take Me For Granted'. She also wrote songs for
Connie Smith
- 'Dallas', Loretta Lynn - 'Get Whatcha Got And Go', and others. Between 1978 and 1983, she was married to Haggard, and in 1978, the two charted in the country Top Ten with the song 'The Bull and the Beaver' and a duet album followed called 'Heart To Heart.' She recorded two singles for
Elektra Records
in 1981, and charted another duet with Haggard titled 'We're Strangers Again.' She later married singer-songwriter Dave Kirby in 1985, and remained married to him until his 2004 death. Williams continues to tour with her son, Ron.
For more information visit Leona Williams' website
Code:

http://www.leonawilliams.com/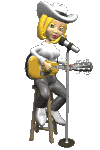 Many Thanks to Original Contributors.

Last edited by Elaine4 on Tue Jul 04, 2017 10:48 pm; edited 1 time in total
Leona Williams - Album List (22 Albums = 26 Discs)
1970 - Leona Williams - That Williams Girl
1972 - Leona Williams - The Best Of Leona Williams
1976 - Leona Williams - San Quentin's First Lady
1977 - Leona Williams - A Woman Walked Away
1983 - Leona Williams & Merle Haggard - Heart To Heart
1984 - Leona Williams - Someday When Things Are Good
1986 - Leona Williams - A Taste Of Life
1999 - Leona Williams - Melted Down Memories
2001 - Leona Williams & Merle Haggard - Old Loves Never Die
2002 - Leona Williams - This Is Leona Williams Country
2004 - Leona Williams - Honorary Texan
2005 - Leona Williams - I Love You Because
2008 - Leona Williams - Leona Williams Sings Merle Haggard
2008 - Leona Williams - New Patches
2009 - Leona Williams - Duets
2009 - Leona Williams - Greatest Hits (2-CD set)
2011 - Leona Williams - Grass Roots
2011 - Leona Williams - Happy Anniversary Baby
2012 - Leona Williams - By George This Is Leona Williams - A Tribute to George Jones
2012 - Leona Williams - Leona Williams (2-CD set)
2013 - Leona Williams & Tony Kerr - 'Just Between The Two Of Us' Tour 2013
2013 - Leona Williams - Yes Ma'm He Found Me In A Honky Tonk (3-CD set)
Last edited by Elaine4 on Wed Jul 05, 2017 5:04 am; edited 5 times in total
1970 - Leona Williams - That Williams Girl @320
Code:

http://www118.zippyshare.com/v/1lQfmnmP/file.html
1972 - Leona Williams - The Best Of Leona Williams @320
Code:

http://www118.zippyshare.com/v/NxG80uVE/file.html
1976 - Leona Williams - San Quentin's First Lady @320
Code:

http://www118.zippyshare.com/v/jCQ13IZs/file.html
1977 - Leona Williams - A Woman Walked Away @320
Code:

http://www118.zippyshare.com/v/HqS3QJVc/file.html
1983 - Leona Williams & Merle Haggard - Heart To Heart @224
Code:

http://www118.zippyshare.com/v/88XgUPPP/file.html
1984 - Leona Williams - Someday When Things Are Good @320
Code:

http://www118.zippyshare.com/v/H5N1D6Vh/file.html
1986 - Leona Williams - A Taste Of Life @320
Code:

http://www118.zippyshare.com/v/iqbQx26Z/file.html
Last edited by Elaine4 on Wed Jul 05, 2017 5:09 am; edited 1 time in total
1999 - Leona Williams - Melted Down Memories @320
Code:

http://www118.zippyshare.com/v/aDLsIFvB/file.html
2001 - Leona Williams & Merle Haggard - Old Loves Never Die @320
Code:

http://www118.zippyshare.com/v/QMIoztUg/file.html
2002 - Leona Williams - This Is Leona Williams Country @320
Code:

http://www118.zippyshare.com/v/BDmMjiHk/file.html
2004 - Leona Williams - Honorary Texan @320
Code:

http://www22.zippyshare.com/v/iLh5dGSf/file.html
2005 - Leona Williams - I Love You Because @320
Code:

http://www118.zippyshare.com/v/7lkTASWX/file.html
2008 - Leona Williams - Leona Williams Sings Merle Haggard @320
Code:

http://www22.zippyshare.com/v/kkFqA206/file.html
Last edited by Elaine4 on Wed Jul 05, 2017 5:40 am; edited 3 times in total
2008 - Leona Williams - New Patches @320
Code:

http://www22.zippyshare.com/v/gTQiIKsK/file.html
2009 - Leona Williams - Duets @320
Code:

http://www22.zippyshare.com/v/8cGXReF5/file.html
2009 - Leona Williams - Greatest Hits (Disc 1) @320
Code:

http://www118.zippyshare.com/v/B1BRhZFl/file.html
2009 - Leona Williams - Greatest Hits (Disc 2) @320
Code:

http://www118.zippyshare.com/v/SdWyDAdE/file.html
2011 - Leona Williams - Grass Roots @320
Code:

http://www22.zippyshare.com/v/khKBDDSP/file.html
2011 - Leona Williams - Happy Anniversary Baby @320
Code:

http://www22.zippyshare.com/v/SlCKxIpj/file.html
Last edited by Elaine4 on Wed Jul 05, 2017 5:43 am; edited 4 times in total
2012 - Leona Williams - By George This Is Leona Williams - A Tribute to George Jones @320
Code:

http://www22.zippyshare.com/v/qm3nm4Da/file.html
2012 - Leona Williams - Leona Williams (2-CD set) @320
Code:

http://www22.zippyshare.com/v/uy2wPkGU/file.html
2013 - Leona Williams & Tony Kerr - 'Just Between The Two Of Us' Tour 2013 @320
Code:

http://www22.zippyshare.com/v/CRCn6qsh/file.html
2013 - Leona Williams - Yes Ma'm He Found Me In A Honky Tonk (Disc 1) @320
Code:

http://www22.zippyshare.com/v/DDUUkJ3X/file.html
2013 - Leona Williams - Yes Ma'm He Found Me In A Honky Tonk (Disc 2) @320
Code:

http://www22.zippyshare.com/v/hiIaOVe6/file.html
2013 - Leona Williams - Yes Ma'm He Found Me In A Honky Tonk (Disc 3) @320
Code:

http://www22.zippyshare.com/v/i1PTNZS4/file.html
Last edited by Elaine4 on Wed Jul 05, 2017 5:37 am; edited 3 times in total
Similar topics
---
Permissions in this forum:
You
cannot
reply to topics in this forum