Rosalie Allen - Discography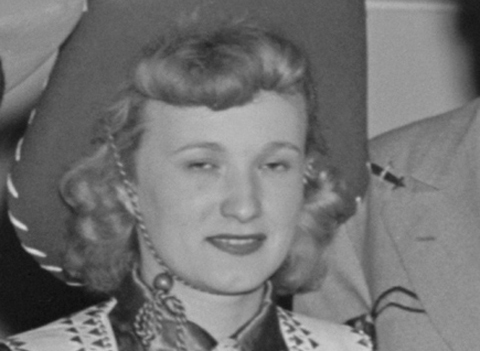 Rosalie Allen, born Julie Marlene Bedraon  June 27, 1924 in
Old Forge, Lackawanna County, Pennsylvania
, was an American country music singer. Allen grew up the daughter of a
Polish
immigrant chiropractor in a family of 12 children in
Pennsylvania
. At age 9 she worked as a dishwasher to help with the family's finances.
Inspired by the singing
cowboys
of the 1930s, she taught herself to sing and play her brother's
guitar
.
In 1944, Allen became a disc jockey. Her half-hour program, Prairie Stars on
WOV
in New York, was so popular that Country Music magazine named her the most famous country music personality in Manhattan. She stayed with the show until rock music bumped her off the air in 1956.
In the 1940s, she ran a country western record shop called Rosalie Allen's Hillbilly Music Center on West 54th Street in New York City, one of the first record stores in the United States to sell only country music.
In 1945, Allen signed a five-year contract with
Spin Records
.
Allen's first hit came in 1946 with RCA Victor with a yodeling update of
Patsy Montana
's 'I Want to Be a Cowboy's Sweetheart.' Allen's final hits paired her with yodeler
Elton Britt
. Their first single, 'Beyond the Sunset,' hit number seven in 1950. They also recorded 'The Yodel Blues' and 'Quicksilver.'
Later in life,
Allen
retired to Alabama to raise a family and eventually settled in California. In 1999, her work in radio was recognized and she was the first woman inducted into the
Country Music Disc Jockey Hall of Fame
.
After a brief battle with congestive heart failure,
Allen
passed away on September 24, 2003.
For more information visit Wikipedia
Code:

https://en.wikipedia.org/wiki/Rosalie_Allen
Many Thanks to Original Contributors.

Rosalie Allen - Album List (14 Albums = 19 Discs)
0000 - Rosalie Allen - Cowboy's Sweetheart (Compilation)
1955 - Rosalie Allen - Rosalie Allen Sings Country And Western Hits
1955 - Rosalie Allen & Elton Britt - Duets By Rosalie Allen And Elton Britt (EP)
1956 - Rosalie Allen - Country And Western Songs
1958 - Rosalie Allen & Elton Britt - Elton Britt And Rosalie Allen
1990 - Rosalie Allen - The Cowboy's Sweetheart (Special Souvenir Edition)
2000 - Rosalie Allen - The Hillbilly Yodel Star Of The 1940s
2005 - Rosalie Allen - Jealous Heart
2009 - Rosalie Allen - Rosalie Allen Sings Songs Of The Golden West
2010 - Rosalie Allen - The Versatile Rosalie Allen (2-CD set)
2010 - Rosalie Allen & Elton Britt - The Complete Duets (2-CD set)
2011 - Rosalie Allen - Yodel Boogie (4-CD set)
2012 - Rosalie Allen & Elton Britt - Side By Side - The Duets
2014 - Rosalie Allen & Elton Britt - Famous Hits By Elton Britt & Rosalie Allen
1957 - Rosalie Allen - Songs Of The Golden West
1958 - Rosalie Allen & Tex Fletcher - Rodeo
1983 - Rosalie Allen - Queen Of The Yodelers
1992 - Rosalie Allen - Yodel Your Troubles Away
Last edited by Elaine4 on Sun Jul 09, 2017 8:46 am; edited 5 times in total
0000 - Rosalie Allen - Cowboy's Sweetheart (Compilation) @192
Code:

http://www19.zippyshare.com/v/JtaE8k67/file.html
1955 - Rosalie Allen - Rosalie Allen Sings Country And Western Hits @320
Code:

http://www19.zippyshare.com/v/39f0sKMj/file.html
1955 - Rosalie Allen & Elton Britt - Duets By Rosalie Allen And Elton Britt (EP) @256
Code:

http://www19.zippyshare.com/v/zq32GYbN/file.html
1956 - Rosalie Allen - Country And Western Songs @320
Code:

http://www19.zippyshare.com/v/geKOBxJb/file.html
1958 - Rosalie Allen & Elton Britt - Elton Britt And Rosalie Allen @256
Code:

http://www19.zippyshare.com/v/auG0T7om/file.html
1990 - Rosalie Allen - The Cowboy's Sweetheart (Special Souvenir Edition) @320
Code:

http://www19.zippyshare.com/v/Z3RyKmBX/file.html
Last edited by Elaine4 on Sun Jul 09, 2017 7:08 am; edited 1 time in total
2000 - Rosalie Allen - The Hillbilly Yodel Star Of The 1940s @320
Code:

http://www19.zippyshare.com/v/rCr1v6Zr/file.html
2005 - Rosalie Allen - Jealous Heart @320
Code:

http://www19.zippyshare.com/v/ms88UngF/file.html
2009 - Rosalie Allen - Rosalie Allen Sings Songs Of The Golden West @192
Code:

http://www113.zippyshare.com/v/Fw1Cp7VA/file.html
2010 - Rosalie Allen - The Versatile Rosalie Allen (Disc 1) @192
Code:

http://www113.zippyshare.com/v/1VBLD1Qo/file.html
2010 - Rosalie Allen - The Versatile Rosalie Allen (Disc 2) @192
Code:

http://www113.zippyshare.com/v/yq3sBYt7/file.html
2010 - Rosalie Allen & Elton Britt - The Complete Duets (2-CD set) @256
Code:

http://www79.zippyshare.com/v/BAj546Hj/file.html
Last edited by Elaine4 on Mon Jul 10, 2017 7:03 am; edited 3 times in total
2011 - Rosalie Allen - Yodel Boogie Vol 1 (Disc 1) @192
Code:

http://www79.zippyshare.com/v/PO3yaIzR/file.html
2011 - Rosalie Allen - Yodel Boogie Vol 2 (Disc 2) @192
Code:

http://www79.zippyshare.com/v/3lTsv1qW/file.html
2011 - Rosalie Allen - Yodel Boogie Vol 3 (Disc 3) @192
Code:

http://www79.zippyshare.com/v/mfXAAT9e/file.html
2011 - Rosalie Allen - Yodel Boogie Vol 4 (Disc 4) @192
Code:

http://www79.zippyshare.com/v/woqRU6Ui/file.html
2012 - Rosalie Allen & Elton Britt - Side By Side - The Duets @256
Code:

http://www79.zippyshare.com/v/oJJ214yh/file.html
2014 - Rosalie Allen & Elton Britt - Famous Hits By Elton Britt & Rosalie Allen @256
Code:

http://www79.zippyshare.com/v/BeMPPzIN/file.html
Last edited by Elaine4 on Mon Jul 10, 2017 7:05 am; edited 2 times in total
Similar topics
---
Permissions in this forum:
You
cannot
reply to topics in this forum