Marion Worth - Discography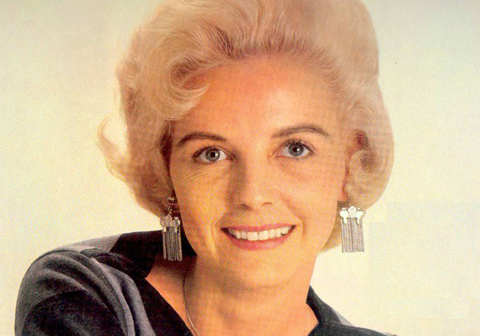 Marion Worth, born Mary Ann Ward on July 4, 1930 in Birmingham, Alabama, was an
American
country music singer. She was a popular performer on the Grand Ole Opry in
Nashville, Tennessee
.
Marion was born in 1930 during the height of the
depression
. Her father, a
railroad
worker, taught her how to play
piano
. At the age of 10, she won a local
talent show
contest for five weeks straight. Initially, she was not interested in pursuing a career in the music business, wanting to become a
nurse
instead. Worth accepted a job as a
bookkeeper
for a record company around the time she and her sister won another local talent contest. These events encouraged Worth to pursue a career in the music business. She met established singer/songwriter Happy Wilson who became quite impressed with Marion's singing and began recording her.
Worth's success on the Country Music charts, went down greatly after 1968. However, Worth didn't stop performing. Her hobby was to study the history of the world, which she focused a lot of time on after her chart success faded away. However, she continued to be an active member of the Grand Ole Opry. She was a popular and in-demand performer for many years in the
United States
and
Canada
. Worth did a lot of firsts for Country Music during her heyday. She was one of the first Country performers to perform at
Carnegie Hall
in
New York City
, as well as one of the first Country performers to perform in
Las Vegas
. During the 1950s, Worth was one of several female Country singers, which included
Loretta Lynn
and
Kitty Wells
, to break down the tradition of using women only as
background singers
in
Country Music
.
On Sunday, December 19, 1999, Worth died in
Nashville, Tennessee
at the
Tennessee Christian Medical Center
from complications of
emphysema
. She was 69 years old.
For more information visit Wikipedia
Code:

https://en.wikipedia.org/wiki/Marion_Worth
Many Thanks to Original Contributors.

Marion Worth - Album List (5 Albums)
1963 - Marion Worth - Marion Worth's Greatest Hits
1964 - Marion Worth - Marion Worth Sings Marty Robbins
1964 - Marion Worth & George Morgan - Slippin' Around
1967 - Marion Worth - A Woman Needs Love
2015 - Marion Worth - Tennessee Teardrops & Other Classics
Missing Album
2002 - Marion Worth - The Country Collection
1963 - Marion Worth - Marion Worth's Greatest Hits @256
Code:

http://www75.zippyshare.com/v/a7W9Da3J/file.html
1964 - Marion Worth - Marion Worth Sings Marty Robbins @192
Code:

http://www75.zippyshare.com/v/YENMp5x5/file.html
1964 - Marion Worth & George Morgan - Slippin' Around @256
Code:

http://www75.zippyshare.com/v/Jrg2PGzN/file.html
1967 - Marion Worth - A Woman Needs Love @128
Code:

http://www75.zippyshare.com/v/dDVqwRsc/file.html
2015 - Marion Worth - Tennessee Teardrops & Other Classics @320
Code:

http://www75.zippyshare.com/v/eVgsfWnr/file.html
Similar topics
---
Permissions in this forum:
You
cannot
reply to topics in this forum