Bobby Lord - Discography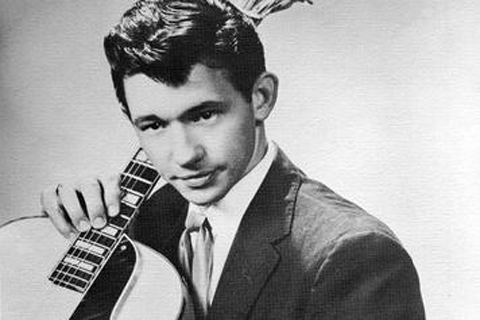 Robert L. Lord, better known as Bobby Lord, born January 6, 1934 in Sanford, Florida, was an American country music artist popular in the 1950s and 1960s.
A native of Florida raised in Tampa, Bobby Lord received his first big break when he headed to Philadelphia after winning a talent contest at the 1951 Florida State Fair. Returning to Florida, he performed regularly on local television, as well as playing live, gaining an audience and the attention of songwriter Boudleaux Bryant, who kick-started the singer's signing to Columbia in 1953. At age 19, he was the label's youngest recording star. He began releasing country and rockabilly hits for Columbia, and in 1955 joined Ozark Jubilee, an ABC-TV program based in Springfield, Missouri.
In 1960, the Jubilee was canceled and Lord moved to
Nashville, where he was immediately offered a spot on the Grand Ole Opry
. He continued appearing on the Opry well into the 1970s.
In 1969, Lord left Nashville and went into semi-retirement from the music industry to devote time to his family and his interests in
real estate and insurance. In the 1980s, he hosted TNN
's program Country Sportsman, later called Celebrity Outdoors, until 1989. A practicing Christian, Bobby wrote a book entitled 'Hit The Glory Road', published in 1969.
Bobby Lord died from a stroke on February 16, 2008 in
Stuart, Florida
at the age of 74. He was a resident of
Jensen Beach, Florida
and was survived by his widow, Mozelle, and three children.
For more information visit AllMusic
Code:

http://www.allmusic.com/artist/bobby-lord-mn0001248327

Many Thanks to Original Contributors.

Bobby Lord - Album List (13 Albums = 14 Discs)
1964 - Bobby Lord - Bobby Lord's Best
1965 - Bobby Lord - The Bobby Lord Show
1970 - Bobby Lord - Bobby Lord's Country
1970 - Bobby Lord - You And Me Against The World~Wake Me Up Early In The Morning
1989 - Bobby Lord - Everybody Is Rockin' (Revival)
1996 - Bobby Lord - Everybody's Rockin' (Demand)
2005 - Bobby Lord - Everybody's Rockin' (Pegasus)
2011 - Bobby Lord - Everybody's Rockin' But Me - Gonna Shake This Shack Tonight
2011 - Bobby Lord - The Rice Records Story (2-CD set)
2013 - Bobby Lord - Bobby Lord
2016 - Bobby Lord - Best 1's
2016 - Bobby Lord - Rocking Party
2016 - Bobby Lord - Rocking Thrill
Videos
Bobby Lord & Patsy Cline - (Remember Me) I'm The One Who Loves You (1962)
Bobby Lord & Patsy Cline - Someday (You'll Want Me To Want You) (1963)
Missing Albums
1970 - Bobby Lord & Bob Luman - You Can't Take The Boys Out Of The Show
Last edited by Elaine4 on Sat Sep 09, 2017 2:34 am; edited 4 times in total
1964 - Bobby Lord - Bobby Lord's Best @320
Code:

http://www22.zippyshare.com/v/Cdi9hIZ0/file.html
1965 - Bobby Lord - The Bobby Lord Show @160
Code:

http://www96.zippyshare.com/v/lUgp0iKN/file.html
1970 - Bobby Lord - Bobby Lord's Country @320
Code:

http://www22.zippyshare.com/v/5CO7LNaf/file.html
1970 - Bobby Lord - You And Me Against The World~Wake Me Up Early In The Morning @192
Code:

http://www22.zippyshare.com/v/5aPWnZ3J/file.html
1989 - Bobby Lord - Everybody Is Rockin' (Revival) @320
Code:

http://www22.zippyshare.com/v/pb2O4sbI/file.html
1996 - Bobby Lord - Everybody's Rockin' (Demand) @320
Code:

http://www22.zippyshare.com/v/YwuFLnQG/file.html
2005 - Bobby Lord - Everybody's Rockin' (Pegasus) @320
Code:

http://www22.zippyshare.com/v/7eXqruh8/file.html
Last edited by Elaine4 on Mon Aug 28, 2017 9:13 am; edited 1 time in total
2011 - Bobby Lord - Everybody's Rockin' But Me - Gonna Shake This Shack Tonight @320
Code:

http://www22.zippyshare.com/v/FP1IhLo6/file.html
2011 - Bobby Lord - The Rice Records Story (2-CD set) @128
Code:

http://www22.zippyshare.com/v/idkDJMS4/file.html
2013 - Bobby Lord - Bobby Lord @192
Code:

http://www22.zippyshare.com/v/yLKA7XaW/file.html
2016 - Bobby Lord - Best 1's @320
Code:

http://www22.zippyshare.com/v/AG8LjqXo/file.html
2016 - Bobby Lord - Rocking Party @192
Code:

http://www71.zippyshare.com/v/GZrkKYeb/file.html
2016 - Bobby Lord - Rocking Thrill @192
Code:

http://www71.zippyshare.com/v/maOauTht/file.html
Last edited by Elaine4 on Mon Aug 28, 2017 9:16 am; edited 1 time in total
VideosBobby Lord & Patsy Cline - (Remember Me) I'm The One Who Loves You (1962)
Code:

http://www45.zippyshare.com/v/Gn2CfBLy/file.html
Bobby Lord & Patsy Cline - Someday (You'll Want Me To Want You) (1963)
Code:

http://www45.zippyshare.com/v/fsCVM7nE/file.html
Last edited by Elaine4 on Sat Sep 09, 2017 2:37 am; edited 1 time in total
Thank you Elaine
It's a pity you don't have 1970 - Bobby Lord & Bob Luman - You Can't Take The Boys Out Of The Show for having a complete discography
Claude




Posts

: 94


Join date

: 2013-04-12



Similar topics
---
Permissions in this forum:
You
cannot
reply to topics in this forum