Bailes Brothers - Discography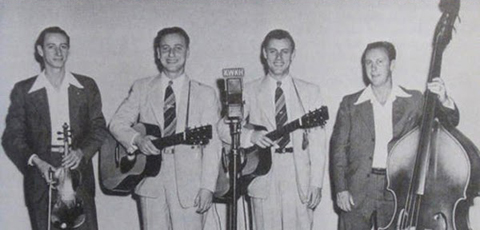 The Bailes Brothers were four, not just two, brothers. Kyle O. (May 7, 1915 - March 3, 1996), John Jacob (June 24, 1918 - December 21, 1989), Walter Butler (January 17, 1920 - November 27, 2000) and Homer Abraham Bailes (May 8, 1922) were all born in Charlestown, West Virginia. Their father was a carpenter, teacher and Baptist preacher. He died in 1925 and the boys were raised by their widowed mother, Nannie Ellen.
The brothers were raised in abject poverty on a small farm in Kanawha County, near Charleston, West Virginia. Kyle was forced to abandon his education as soon as he was old enough to work to support the fatherless family. The boys had a guitar, which their mother managed to buy from a mail-order catalogue. In the early 30s, their half-brother, Jennings Thomas, who worked as a rodeo rider and musician, arrived home and created sufficient interest for he and Kyle to sing together on local radio. A few years later, the family moved to Charleston, where Johnny found work to keep his two siblings at school but soon looked for a musical career. The boys sang together locally and appeared in churches as the Hymn Singers, and Johnny soon joined with Kyle and Walter on a regular radio programme on WCHS. In 1937, Johnny Bailes and his close friend Red Sovine appeared as Smiley And Red The Singing Sailors, and also became members of Jim Pike's Carolina Tarheels. For a short time in 1938, they played on WWVA Wheeling, but returned to Charleston when Sovine married. In 1939, Johnny formed a group known as the Happy Valley Boys, which included Fiddlin' Skeets Williamson, his sister LaVerne (who became famous as Molly O'Day) and Little Jimmy Dickens, who was billed as 'the Singing Midget'. They played regularly on WJLS Beckley and proved very popular. Walter and Kyle Bailes were playing with their group at WCHS and at WPAR, but also moved to Beckley. Early in 1941, both groups disbanded and Johnny and Walter appeared on WCHS as a duo, although on occasions they were joined by their brothers. They moved to WSAZ Huntington, where their popularity grew as a result of their radio show, Tri-State Jamboree. In 1943, their friendship with Roy Acuff led to their becoming members of the Grand Ole Opry (Johnny and Walter became the first West Virginians to star on the show). Kyle worked at various stations and after Homer's military service, both eventually joined their brothers in Nashville. Late in 1946, they recorded for King Records, and about the same time, they left the Grand Ole Opry and moved to KWKH Shreveport. When The Louisiana Hayride began in 1948, they soon became firm favourites and received so many requests to play outside venues that a second group was formed, which contained Jimmie Osborne and Claude King. Their band, the West Virginia Home Folks, contained several noted instrumentalists, including steel guitarist Shot Jackson and mandolinist Clyde Baum. The four brothers recorded for Columbia Records in April 1947, but in July, Walter left to become a minister. Soon afterwards, Kyle also withdrew from playing, but acted as manager; his place was taken by Tillman Franks.
Johnny and Homer parted acrimoniously late in 1949, which led to them performing on different stations. However, in August 1952, Walter and Johnny reunited at KCRT, Baytown, Texas, for a religious show during which Walter preached and Johnny sang. They recorded for King in 1953 and continued to work together until 1956, when Johnny became a disc jockey in Georgia. During the 60s, Walter was in Birmingham and continued his work as an evangelist and sometimes sang with his wife. She had worked throughout the 50s with Homer, then joined Walter in 1962, and together they performed with bluegrass gospel groups, on occasions collaborating with Johnny. Walter made many solo recordings and duets with Kyle, and in 1967 recorded an album with Homer. Late in 1972, Johnny and Homer recorded an album for Starday. By the mid-70s, Kyle was involved with an air-conditioning business, and Johnny was the general manager of three radio stations owned by Webb Pierce. Homer, having entered the ministry, was the pastor of a church in Roanoke. Walter (sometimes referred to as the Chaplain of Music Row) continued to work as a gospel singer and evangelist and appeared and recorded with his wife Frankie and Dorothy Jo Hope as the Walter Bailes Singers. The Bailes later promoted recordings on their own White Dove label, which included solo material.
Many Thanks to Original Contributors.

Bailes Brothers - Album List (15 Albums = 16 Discs)
1959 - Bailes Brothers - Avenue Of Prayer
1973 - Bailes Brothers - Johnnie & Homer - Gospel Reunion
1975 - Bailes Brothers - Johnnie & Homer - Early Radio 1948-1949
1976 - Bailes Brothers - Johnnie & Homer - Early Radio Volume II
1977 - Bailes Brothers - Early Radio Favorites
1978 - Bailes Brothers - Kyle & Walter - I've Got My One Way Ticket
1983 - Bailes Brothers - Original Bailes Brothers - Yesteryears And Today (2-LP set)
2000 - Bailes Brothers - The Bailes Brothers Sing Their Hearts Out For You
2002 - Bailes Brothers - Oh So Many Years
2009 - Bailes Brothers - 1945-1946
2009 - Bailes Brothers - 1946-1947
2009 - Bailes Brothers - 1947-1953
2012 - Bailes Brothers - Remember Me - The Legendary King Sessions 1946
2012 - Bailes Brothers - Standing Somewhere In The Shadows-The Legendary King Sessions 1953 Plus
2013 - Bailes Brothers - Rare Recordings (Remastered)
1968 - Bailes Brothers - Homer & Walter - I'll Pray For Your Family (You Pray For Mine)
1978 - Bailes Brothers - Four Bailes Brothers - This Album Spans 30 Years Of Recordings 1947-1977
1982 - Bailes Brothers - Homer - Tenderly He Watches
1982 - Bailes Brothers - Walter - Bluegrass Gospel
1996 - Bailes Brothers - Walter - Tell Me Again There Is No God
2004 - Bailes Brothers - Travelling The Highway Home
2010 - Bailes Brothers - The Bailes Brothers 2010 (Gusto)
Last edited by Elaine4 on Tue Sep 05, 2017 11:51 pm; edited 4 times in total
1959 - Bailes Brothers - Avenue Of Prayer @320
Code:

http://www116.zippyshare.com/v/9pcgJ6lO/file.html
1973 - Bailes Brothers - Johnnie & Homer - Gospel Reunion @320
Code:

http://www54.zippyshare.com/v/cnbhcU7I/file.html
1975 - Bailes Brothers - Johnnie & Homer - Early Radio 1948-1949 @320
Code:

http://www54.zippyshare.com/v/kJFqNvgM/file.html
1976 - Bailes Brothers - Johnnie & Homer - Early Radio Volume II @320
Code:

http://www54.zippyshare.com/v/AtXtoBjW/file.html
1977 - Bailes Brothers - Johnnie & Walter - Early Radio Favorites @320
Code:

http://www116.zippyshare.com/v/MpcjEHTG/file.html
1978 - Bailes Brothers - Kyle & Walter - I've Got My One Way Ticket @320
Code:

http://www54.zippyshare.com/v/juwVtm0L/file.html
Last edited by Elaine4 on Sat Sep 02, 2017 6:55 am; edited 1 time in total
1983 - Bailes Brothers - Original Bailes Brothers - Yesteryears And Today @320
Code:

http://www63.zippyshare.com/v/5enjP3BP/file.html
2000 - Bailes Brothers - The Bailes Brothers Sing Their Hearts Out For You @192
Code:

http://www3.zippyshare.com/v/xV9LYpSl/file.html
2002 - Bailes Brothers - Oh So Many Years @320
Code:

http://www68.zippyshare.com/v/Rb2vKHMP/file.html
2009 - Bailes Brothers - 1945-1946 @320
Code:

http://www68.zippyshare.com/v/hYnnP4hm/file.html
2009 - Bailes Brothers - 1946-1947 @320
Code:

http://www68.zippyshare.com/v/EaKKMoHA/file.html
2009 - Bailes Brothers - 1947-1953 @320
Code:

http://www116.zippyshare.com/v/033wpnAP/file.html
Last edited by Elaine4 on Tue Sep 05, 2017 11:57 pm; edited 2 times in total
2012 - Bailes Brothers - Remember Me - The Legendary King Sessions 1946 @320
Code:

http://www116.zippyshare.com/v/Bmq2s0f9/file.html
2012 - Bailes Brothers - Remember Me - The Legendary King Sessions 1946 (Artwork)
Code:

http://www116.zippyshare.com/v/J14CZccf/file.html
2012 - Bailes Brothers - Standing Somewhere In The Shadows - The Legendary King Sessions 1953 Plus @320
Code:

http://www116.zippyshare.com/v/ieXMqKL9/file.html
2013 - Bailes Brothers - Rare Recordings (Compilation) @320[
Code:

http://www116.zippyshare.com/v/F2yQFnVh/file.html
Last edited by Elaine4 on Wed Sep 06, 2017 12:01 am; edited 1 time in total
Similar topics
---
Permissions in this forum:
You
cannot
reply to topics in this forum