Buddy Starcher - Discography
Buddy Starcher, born Oby Edgar Starcher, on March 16, 1906, in
Ripley
,
West Virginia
, was an
American
country
singer
whose first record releases were in 1946 for Four Star, although he had been performing since his teens, often billed as 'The Boy from Down Home'.
Starcher first learned to play banjo but later became an outstanding guitarist under the tutelage of his father, an old-time fiddler. In 1928, he was probably the first hillbilly artist to appear on radio in the Baltimore area. Between 1930 and 1960, he continually moved around, not only playing venues in his home state, Virginia and Kentucky (especially Charleston and Fairmont), but further afield to Miami, Iowa and Philadelphia. In 1946, he recorded in Chicago for Four Star, including his best-known song, 'I'll Still Write Your Name In The Sand'. Now a much recorded bluegrass standard, it reached number 8 in the country charts. Later he recorded for other labels including Columbia, Starday, Decca, Blue Bonnet and Bear Family Records.
He starred on his own
show
on
WCHS-TV
from 1960 to 1966, and ran a record label named B.E.S. (for his initials) during this time. However, he is best known for his
spoken word
recording
entitled 'History Repeats Itself',
written
with
Minnie Pearl
. Originally released on his own label in 1965, it was re-released on the larger and better distributed
Boone Records
in 1966. The track recounts
uncanny similarities
between the
assassinations
of
Abraham Lincoln
and
John F. Kennedy
, accompanied by a musical background featuring '
Battle Hymn of the Republic
' and '
America the Beautiful
'.
I
n the late 60s, he returned to radio and for some years managed radio stations, being usually brought in as a trouble-shooter to pick up ailing stations - once they were running successfully, he moved on to the next challenge. He wrote many fine songs including 'Song Of The Water Wheel' (a hit for Slim Whitman) and also some prose. In the late 30s, he married fellow artist Mary Ann (Vasas), who in 1941 took over from Patsy Montana on WLS Chicago.
Starcher died November 2, 2001 in Harrisonburg, Virginia at the age of 95.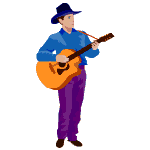 Many Thanks to Original Contributors.

Last edited by Elaine4 on Wed Sep 06, 2017 3:33 am; edited 2 times in total
Buddy Starcher - Album List (9 Albums)
1963 - Buddy Starcher - Buddy Starcher And His Mountain Guitar
1966 - Buddy Starcher - History Repeats Itself (Decca)
1966 - Buddy Starcher - History Repeats Itself (Starday)
1968 - Buddy Starcher - Just Buddy And His Guitar - Album Number One
1978 - Buddy Starcher - Country Love Songs
1985 - Buddy Starcher - Pride Of The West Virginia Hills
2005 - Buddy Starcher & Shorty Long & Webster Brothers - The Golden Age Of Country Music
2010 - Buddy Starcher - Battle Of New Orleans
2015 - Buddy Starcher - 1946-1950
1950 - Buddy Starcher - The Boy From Down Home (4 Star)
1967 - Buddy Starcher - Country Soul & Inspiration
1984 - Buddy Starcher - The Boy From Down Home (Cattle)
Last edited by Elaine4 on Wed Sep 06, 2017 8:45 am; edited 2 times in total
1963 - Buddy Starcher - Buddy Starcher And His Mountain Guitar @128
Code:

http://www41.zippyshare.com/v/VklCwnJr/file.html
1966 - Buddy Starcher - History Repeats Itself (Decca) @320
Code:

http://www41.zippyshare.com/v/6phR2Vmx/file.html
1966 - Buddy Starcher - History Repeats Itself (Starday) @128
Code:

http://www8.zippyshare.com/v/c5I3sUOu/file.html
1968 - Buddy Starcher - Just Buddy And His Guitar - Album Number One @320
Code:

http://www.filefactory.com/file/1uyllth6mg27/1968%20-%20BS%20-%20JBAHG-ANO%20%282%29.zip

1978 - Buddy Starcher - Country Love Songs @128
Code:

http://www8.zippyshare.com/v/UJtIeKUr/file.html
Last edited by Elaine4 on Wed Sep 06, 2017 8:49 am; edited 2 times in total
1985 - Buddy Starcher - Pride Of The West Virginia Hills @128
Code:

http://www41.zippyshare.com/v/bWk1GICO/file.html
2005 - Buddy Starcher & Shorty Long & Webster Brothers - The Golden Age Of Country Music @128
Code:

http://www8.zippyshare.com/v/7DnTkLBt/file.html
2010 - Buddy Starcher - Battle Of New Orleans @320
Code:

http://www41.zippyshare.com/v/pjeww2jt/file.html
2015 - Buddy Starcher - 1946-1950 @320
Code:

http://www41.zippyshare.com/v/dAZtRNQI/file.html
Last edited by Elaine4 on Wed Sep 06, 2017 8:52 am; edited 1 time in total



Posts

: 94


Join date

: 2013-04-12



Similar topics
---
Permissions in this forum:
You
cannot
reply to topics in this forum